Get Brand Activism in your DNA
For brands that have up 'til now stood idly by but are ready to adapt and adopt a social cause initiative, this guide is for you.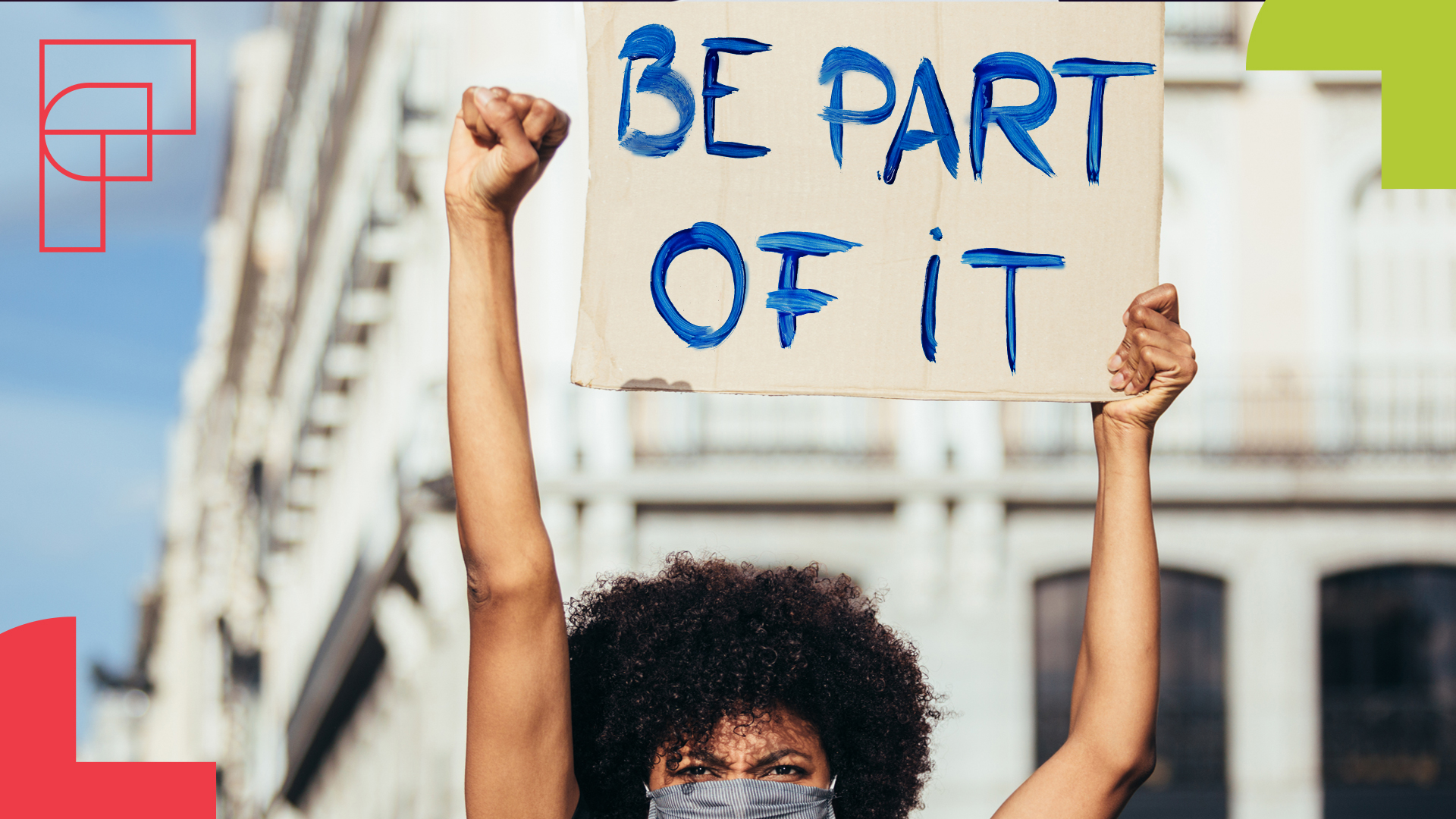 Remember when whatever was happening in the news was separate from what was happening with your brand? When you didn't publicly align yourself with any particular social cause, such as gender rights or racial equality, you just made running shoes? Or you just sold ice cream? What right do you have to get involved in politics anyways? Every right as it turns out – 55% of consumers expect brands to commit to social justice initiatives (including 65% of millennials and 85% of Gen Z). it's called Brand Activism.
It's 2021. We're in the midst of Black History Month and in a couple weeks, it's International Women's Day. Two causes that will see a surge in brand attention, and rightly so. According to an Edelman study, 80% of consumers want brands to solve society's problems, with 85% saying they want brands to solve their own problems. And millennials have been demanding social responsibility from brands from the beginning. It's not enough anymore to stand idly by as so much in the world is in political and social flux. Brands that adapt maximize their returns – financially and through consumer engagement as cause-related ads have a positive impact on consumers.
There was once a time when brands would refrain from taking a stance on social and political issues, certainly outwardly. But with more consumers looking to them to influence real change, brands have the opportunity, and arguably the obligation, to step up.
For brands that have up 'til now stood idly by but are ready to adapt and adopt a social cause initiative, this guide is for you. Brands equipped to respond to social issues drive consumer trust, leading to increased brand loyalty, engagement, and advocacy in their consumers. It's never too late to start, and we hope these insights and findings will help drive some positive good for your brand.
---
1. Get your house in order.
Before you can make any political or social alignment, make sure your foundation is in order. If you are standing up for a diversity issue, make sure diverse people are in the room helping make decisions. Or if align with an environmental cause, is your company doing all it can to be green? Take Knix lingerie. From the get-go, they positioned themselves as a feminist brand that celebrated all women and their body types. What's better, they are a female-founded company. Their social media channels further illustrate their mission, even celebrating women outside of their brand. At the inauguration last month, multiple tweets surrounding the guests (like young poet Amanda Gorman) and the women in power (go Kamala!) were seen. In addition, they are sponsoring BodyCon – a one day conference focused on body positivity and confidence. Their stance on feminist issues is unquestionably clear, so much so that when they speak on a political action, it feels right, it's permissible, and it all makes sense.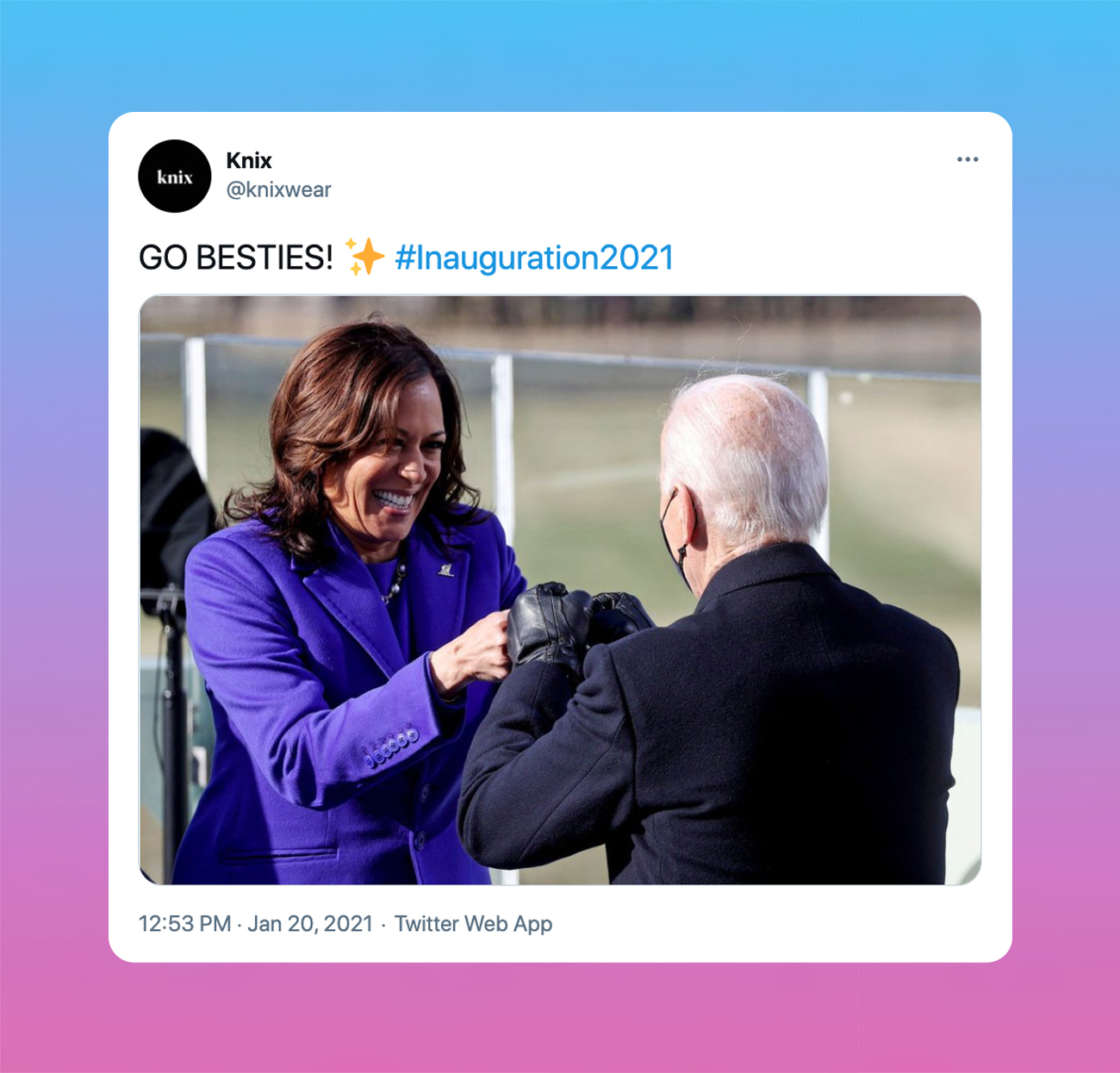 2. Make sure your brand values and mission align with the causes you believe in.
There are a lot of issues in the news: from the environment, to labour disputes, to helping the homeless. One brand can't touch on all of them. So your goal is to find the ones that matter to you and your target audience, but also makes you distinct.
For example, according to our social listening insights, there were close to 187k mentions of black businesses among Canadians in the past year. This is a powerful increase of over 1,065% mentions compared to the previous year. The death of George Floyd, among other innocent black Americans, and the ensuing protests against systemic racism in 2020 has heightened interest and willingness to support black businesses by Canadians. To validate this claim, one of Google's latest reports found that 40% of people within the racialized community have switched their purchases to brands that have taken a stand and supported the BLM movement.
This isn't a fad, and nor can your brand be seen as jumping on a fad. Be distinct in your messaging to stand out from competitors. Maybe that's supporting a local charity associated with your cause. Or using user-generated content from the exact audience you're trying to lift up. If you're going to align with a cause, in this case supporting diversity and black businesses, you must ensure it authentically aligns with your brand/company's values.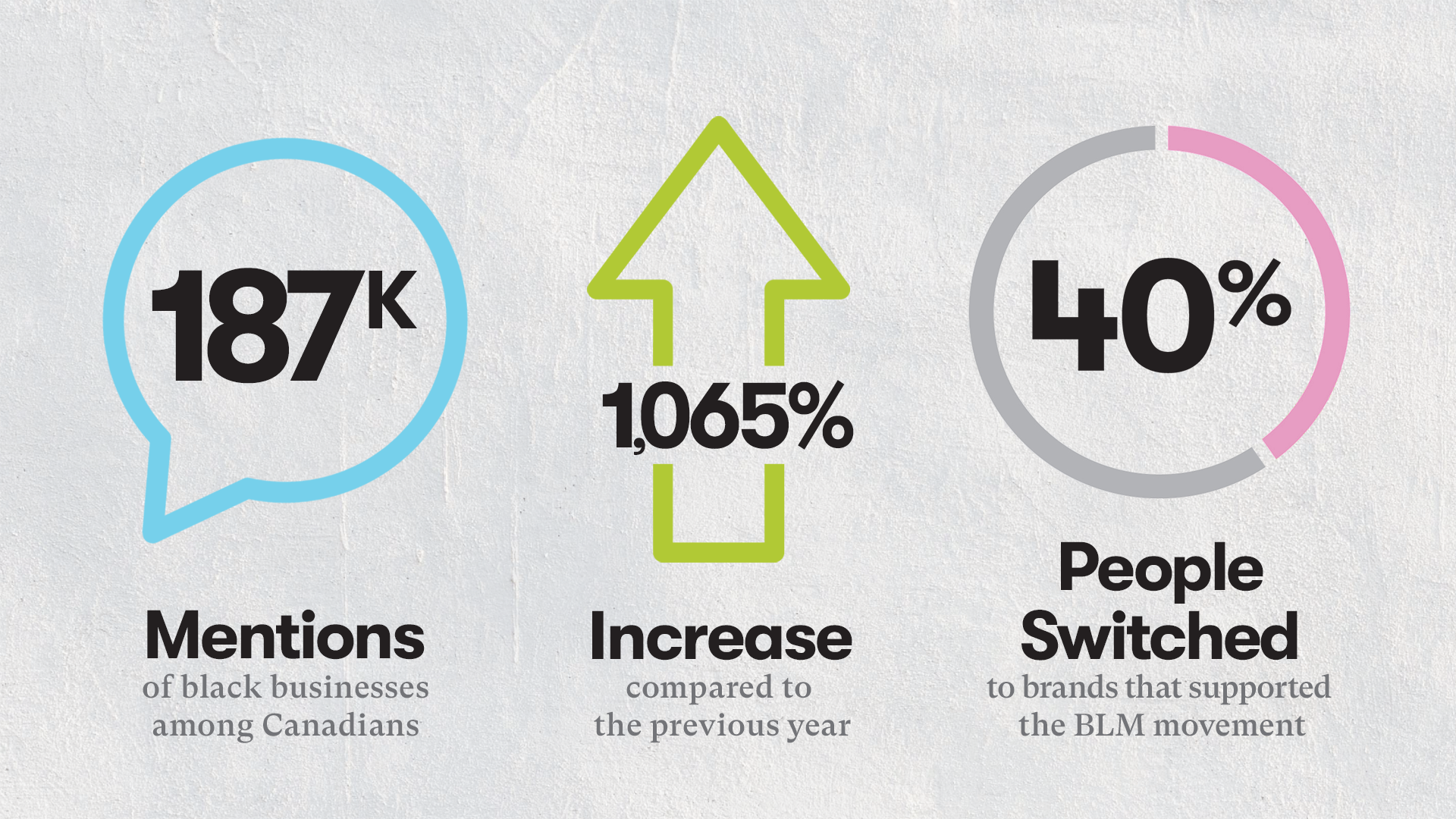 In 2019, Gillette developed a commercial aimed at starting a social movement. Gillette, a brand that has been a part of 'manhood' for decades, launched an ad focused on toxic masculinity – it received mixed reviews. Some critics said it generalized all men as violent misogynists while others celebrated the men showing empathy and compassion. Gillette responded to the mixed reviews, "We have a responsibility to influence culture and use our voice to champion positive male behaviours. We expected debate — discussion is necessary." They also committed to donating $1 million over the next three years to charities aimed at supporting men, an action that further aligns with their brand values and mission. They put their money where they mouth was literally. In addition to being authentic, for a brand like Gillette, they were also brave.
3. Acknowledge your shortcomings.
It's hard for brands to be perfect. Whether it's acknowledging your political silence in the past, or the fact that you deleted posts after taking a stand, it's hard to admit your silence or mistakes, but it's important to take responsibility for them. Canadians are in the same boat. They feel powerless to make change, even with 61% expressing interest in supporting brands that promote positive social change. This means they can relate. So be honest, you'd be surprised at how forgiving consumers can be.
Besides, thanks to the internet, Gen Z can find the answers they're looking for when it comes to a brand's social position pretty quick. About 75% of Gen Z shoppers will do research to see if a brand is being honest when it comes to taking a stand on issues. So you might as well admit your mistakes before they do for you! The Kendall Jenner Pepsi commercial is an example of completely missing the mark. Pepsi removed the content and halted any further rollout due to the public shaming it received.
By aiming to be better brands, consumers will take notice. After the events at Capitol Hill on January 9, 2021, many brands made a statement that acknowledged the horror and disgrace of democracy on display. This created exposure for the brands while also promoting good. It was relevant content that showed consumers they have a side to take. And the brands that made the most sincere, authentic, and least opportunistic statements, received the most positive engagement.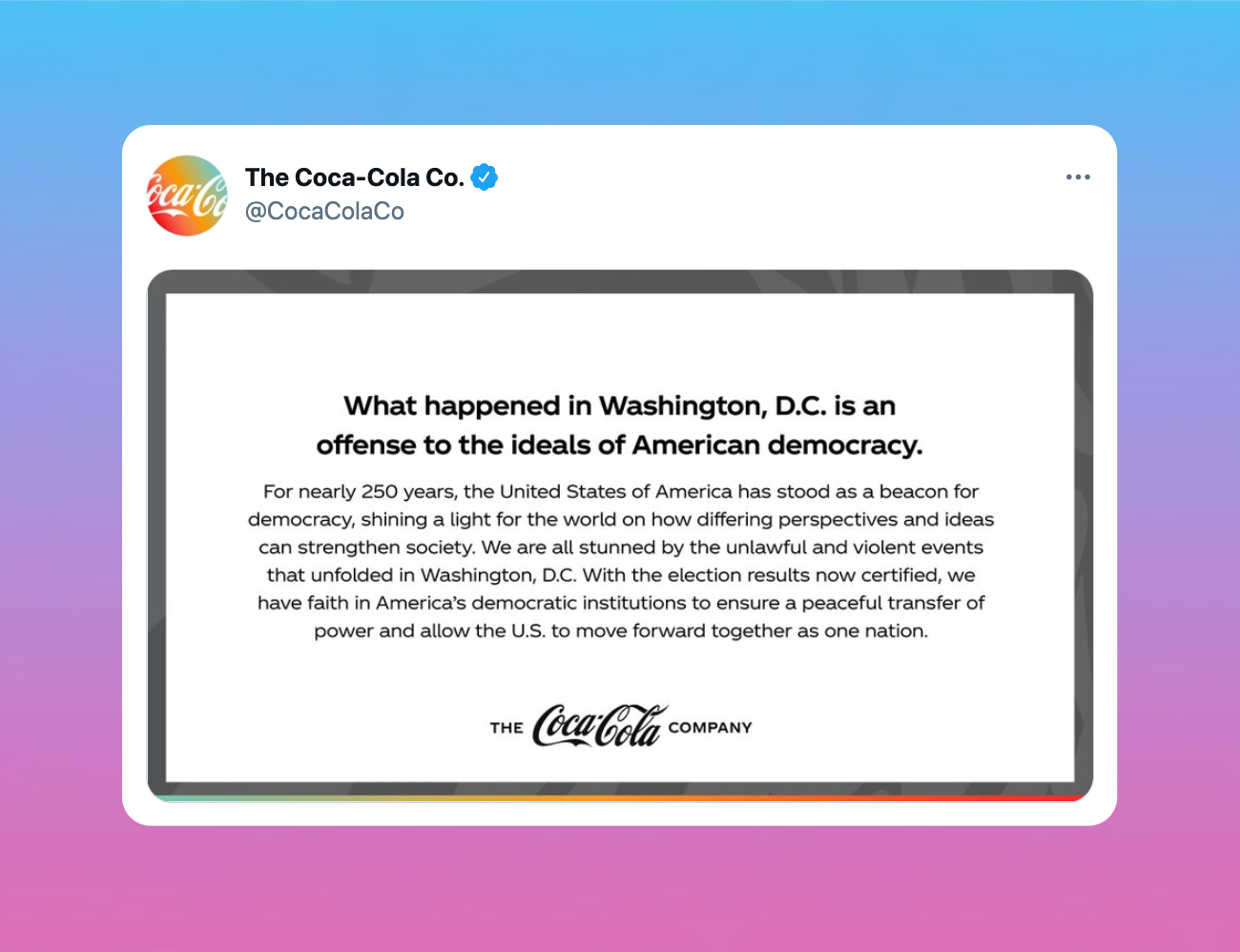 .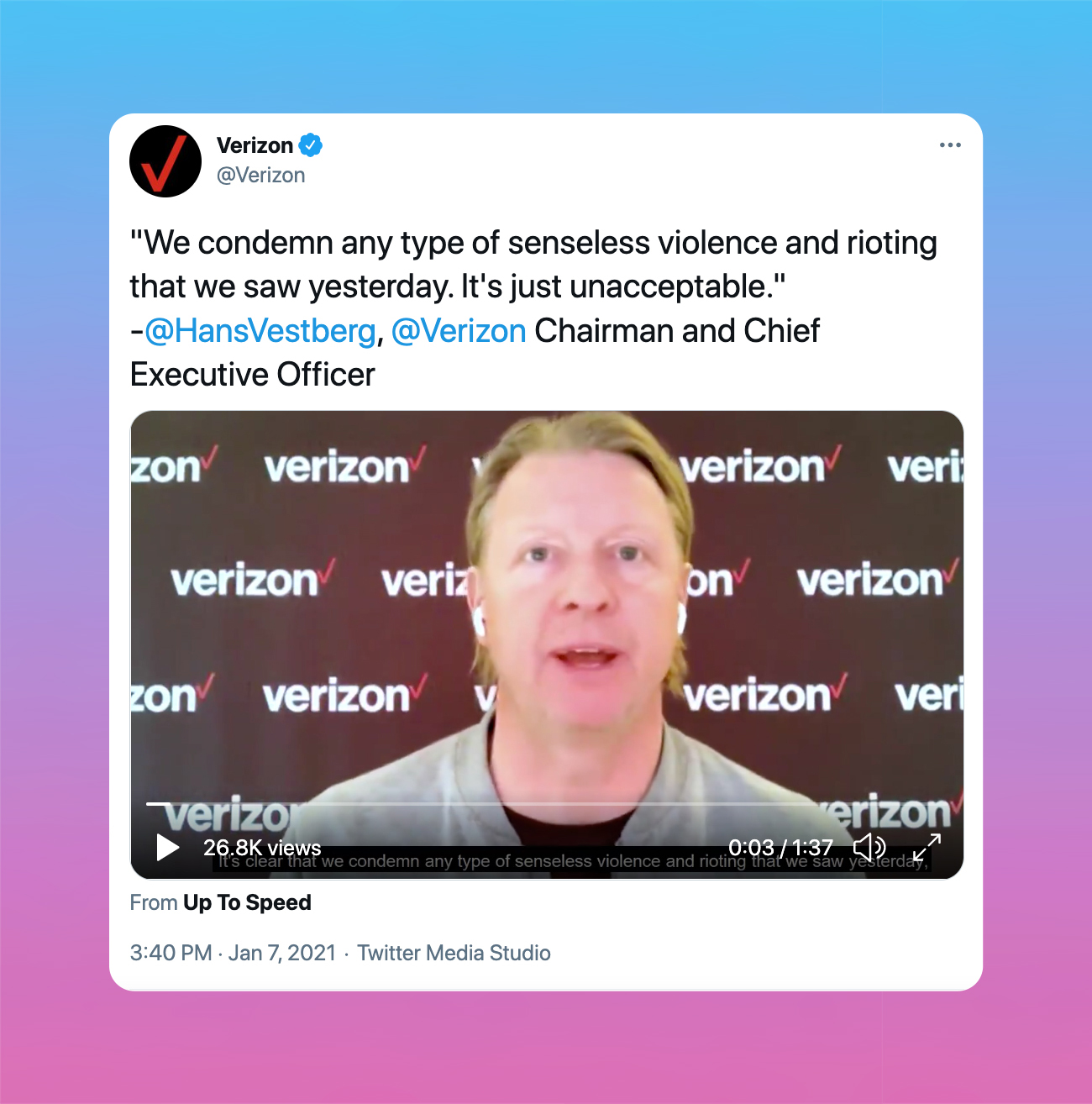 4. Keep the momentum.
Once you've taken a side or a stance, and you have marketing in place to support your decision, you have to keep the momentum going. So post another cause-worthy piece of content in a couple weeks. Or if you're donating money to the cause, let your fans on social know about the progress you've made. Consumers will be engaged in the movement. In fact, in a study from Weber Shandwick and KRC Research, 83% of people interviewed said it is more important than ever to support companies that do the right thing, terming it "BUYcotting."
Which is why it can't be a 1-off thing. By being consistent and authentic in your postings, you will build brand trust and loyalty. This is the new currency in marketing and if consumers see you doing social good, it will make them feel good purchasing from you.
---
At the end of the day, how does your brand make a difference? How does your brand determine its net-worth beyond the financials? As a marketer and leader, answer these questions honestly and try and find ways to authentically connect your brand to social good. The pandemic has motivated us to reflect and reimagine our purpose. And we as marketers have written a lot of narratives in the past, it's time to write the ones that matter. Get brand activism in your DNA and you'll find even more meaningful ways to reach your audience , through their hearts and minds, and ultimately, their wallets.